Aloha Kevin
Just got delivery of her… fantastic....Just spent the last hour getting the strings to tighten up a bit and then played her.... as I said before..... BLOODY LOVELY!! mate!! she lives up to all expectations, and with age and climatising to our weather ...will be better... tell the MAN He's the MAN and never lose that attention to detail and sound. The combo of mahogany and cocobolo , including the fret board, in fact everywhere the woods have been used is what I would have done, artistically and ascetically… congratulations to everyone involved. Mucho gracias for the stickers and hat too and will proudly show and tell your wonderful uke, for sure ....... Will keep in touch and again big thankyou to all...... Cheers
TIKI
I wanted to spread the word about how wonderful these guys are and how beautiful the instruments are that they make. When I first found Cocobolo Ukuleles I ordered a tenor as a gift for my son-in-law in Louisiana. He was tickled with it. Before I had even seen it, I decided to order one for myself. I had it sent to Louisiana for me to pick up on my upcoming vacation. I had also ordered a banjo-uke and a Pono soprano to be sent to Louisiana. What was one more Cocobolo Super Concert?
Once I got to Louisiana and saw my Cocobolo, I could not put it down. I had no room to bring any of them home, but I rearranged my luggage so that I could make sure the Cocobolo came back to Canada with me.
It is a superb instrument and plays like a dream. Beautiful to look at, and darling to play. I should add that I had also commissioned another concert from California, which is also lovely, but I am all about my Cocobolo now!
The whole process was wonderful, and I am grateful for this instrument! I have a feeling I will be a repeat customer!
Thanks again!
Linda from Canada
Hey Kevin,
Have been giving the uke a pounding since it arrived and the more I play the more I enjoy, she just gets better with age... she is like me, the older the better eh!... I smashed up my middle finger 2 weeks ago but still no stoppin me playing. Again tell the boys how pleased I am and that Carlos Santana's Black Magic Woman sounds beautiful on her… Mahalo
TIKI
Hi Kevin,
Got it!!!!!
It was a gamble - but after our emails and reading underground forums I put my full trust in you and your product!
It is fabulous! It looks incredible and sounds great! I love the radiused fretboard- it plays super. I need to get some photos of it and spend some time writing a review - making sure I include everything. I can't put this together until Sunday evening or early next week, but I will let you know when I post it.
So stay tuned! Thank you so much!
I love it
Nick
Hi Kevin
Just a quick note to say the uke arrived safe and sound. First impressions are it's a stunner. Very pretty, fine workmanship, and sounds lovely, with plenty of volume. I only tuned it up a couple of hours ago and the sound continues to improve - I guess I'll have a better idea in a day or two after the soundboard comes fully up to tension.
The neck and fretboard are particularly impressive. Action and feel is excellent. Love that cocobolo fretboard! The intonation is perfect at every fret. Likely the luthier went to a lot of trouble to make sure it was spot on. Very impressive work all around.
Thanks again!
Fisherman
Kevin,
Got the ukes! They sound really good, these are the best sounding ones yet. Fatter low end bass response and great projection. Is the top a little thinner, or the bracing on the top lighter? The radius is nice. It's cool the way the radius of the nut and saddle match the radius of the fingerboard. The slot that the nut sits in is squared off and professional looking. Fit and finish is very good and consistent. Nice work!!!!
I put a low g string on one of them. It sounds really good. I'll shoot some video over this weekend.
Thanks,
John Gonzalez
Fan Guitar and Ukulele Richmond, Virginia
Hi Kevin –
Very nice! Everyone here was drawn towards them, just as I think customers will be. They are very distinctive and sound pretty darn good too. Both passed the shop inspection - they were right at our specs for string action (a rarity from most small makers). The fretwork was fine all around. That is also a rarity; we usually do not see that right off the bat. When I told people the price they were even more impressed.
I think they will move fairly quickly -- they are very attractive instruments at a really good price. Uke collectors like different, and they certainly are unique. Consensus thumbs way up!
Thanks much for contacting us. We look forward to working with you.
Regards,
Ray Aleshire
Purchasing Department Manager
Elderly Instruments
1100 N Washington Ave
Lansing, MI 48906
I just received my latest Uke and it is a concert from Cocobolo Ukuleles, the small Nicaraguan company that has been making quite a splash in the Uke world and here on Ukulele Underground. The Uke is absolutely beautiful. The wood is stunning and running my hands around it I find it to be totally smooth. No glue marks or attachment marks at all. I thought that the wood was a little more glossy in the pictures than it is in my possession, but it still is a beautifully hand made instrument and a work of art. I can tell that there was real care put into it and I commend their luthiers for this.
My preliminary impression is that the Uke has a very rich and mellow sound. It does not have the higher twangy Uke sound, (how's that for a description) of let's say a soprano, but you will probably have the prettiest sounding uke at your group play along. It is very melodic and would be great for fingerpicking and chord/melody arrangements and of course playing solo. This is where it would really shine..
As it is a real wood, I expect it to open up more over time. Kevin at Cocobolo Ukuleles has been fantastic to deal with and if this Uke is any indication, his company has a long life ahead of it.
Rappsy
After a month with this ukulele I am still incredibly impressed. Having 7 ukes of various qualities and price ranges this cocobolo is my go to uke of choice. The feel and easy ability to play and the sweet sound I love. Also I can't stop gazing at the fabulous cocobolo grain pattern! In plain words, it is perfect for my musical ability. I have been reading the UU discussion on radiused fret boards with interest. I really like it and feel the radiused frets makes my playing better. I am itching to get another concert cocobolo in the future.
Nick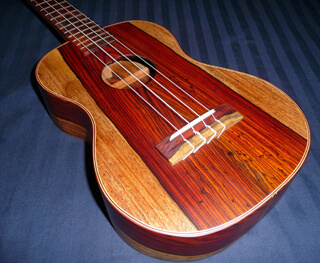 Hi Kevin!

I am considering a tenor, but the sound on my concert is so unbelievably rich that maybe I don't need one! I have to tell you how my ukulele has developed over the last few months. The sound has grown progressively richer and the sustain has increased so impressively. The cocobolo top truly gives it a beautiful sound like no other. It is a joy to play. I see on your website that you are now offering cocobolo tops as a regular option! I feel lucky to have been a part of the group that got one of the first. I am so happy that more people are hearing about your wonderful company and your beautiful ukes.
Good luck on the tenors and keep me posted!
Jeanne
Hi Kevin,

You just made one SUPER HAPPY customer!!
I finally got my hands on #152 today and it is just so beautiful! I'll send you a clip of the sound after the strings settle. I totally love it!
Thank you for selling me this beautiful ukulele!
Paul
Hi Kevin,

The cocobolo has become my goto uke!
I just feel so comfortable playing it. My KoAloha is collecting dust! I show it to all my uke friends and they love it too!

I have considered switching to fluorocarbon strings (Worth), but I am loving the Aquila's on this instrument and don't plan to try any other string.

I'm hoping to get a collection started of your company's ukes!!!! Please let me know when ukes are available.
Nick
Hi Kevin,

Wanted to let you know that #158 arrived safely today. What a sweet uke! The build is perfect. Love the action, neck profile, setup and the frets are really dressed just perfect with no sharp ends. Love the sound! Believe me, I have many concert size ukes to compare with. It is really a beautiful uke to the eye! You must consider making an all Honduran mahogany concert and spruce top concerts. Please forward my compliments to your luthier and staff. They do great work and have a great eye for detail! I am extremely satisfied with my purchase and your communication and customer service is amongst the the best I have ever experienced!
David from Texas
Hi Kevin,

#159 arrived today and has won my heart! What's a word in Nicaragua for "heart full of joy"? That will be it's name. This is a beautiful instrument! Please thank Silvio and tell him this is a work of art. Thanks also to every hand that worked on it and made a wonderful music maker.

It is so smooth to the touch, definitely a lady, and the tone goes straight to the heart. It's perfect! Thank you so much Kevin. I've got to find a good hardshell case for it now. I'll have to take some measurements to get the right size case. It was definitely worth the wait and I will cherish it and play it every day. Can you tell I'm excited!
John